Now with cashback!
Earn cashback as you shop with your favourite brands
How It Works
Activate your account and shop with hundreds of brands on Rakuten.
We track your purchases and credit your Rakuten account with a % of what you spent.
Once the transaction is confirmed by our partner, you can withdraw cashback as money.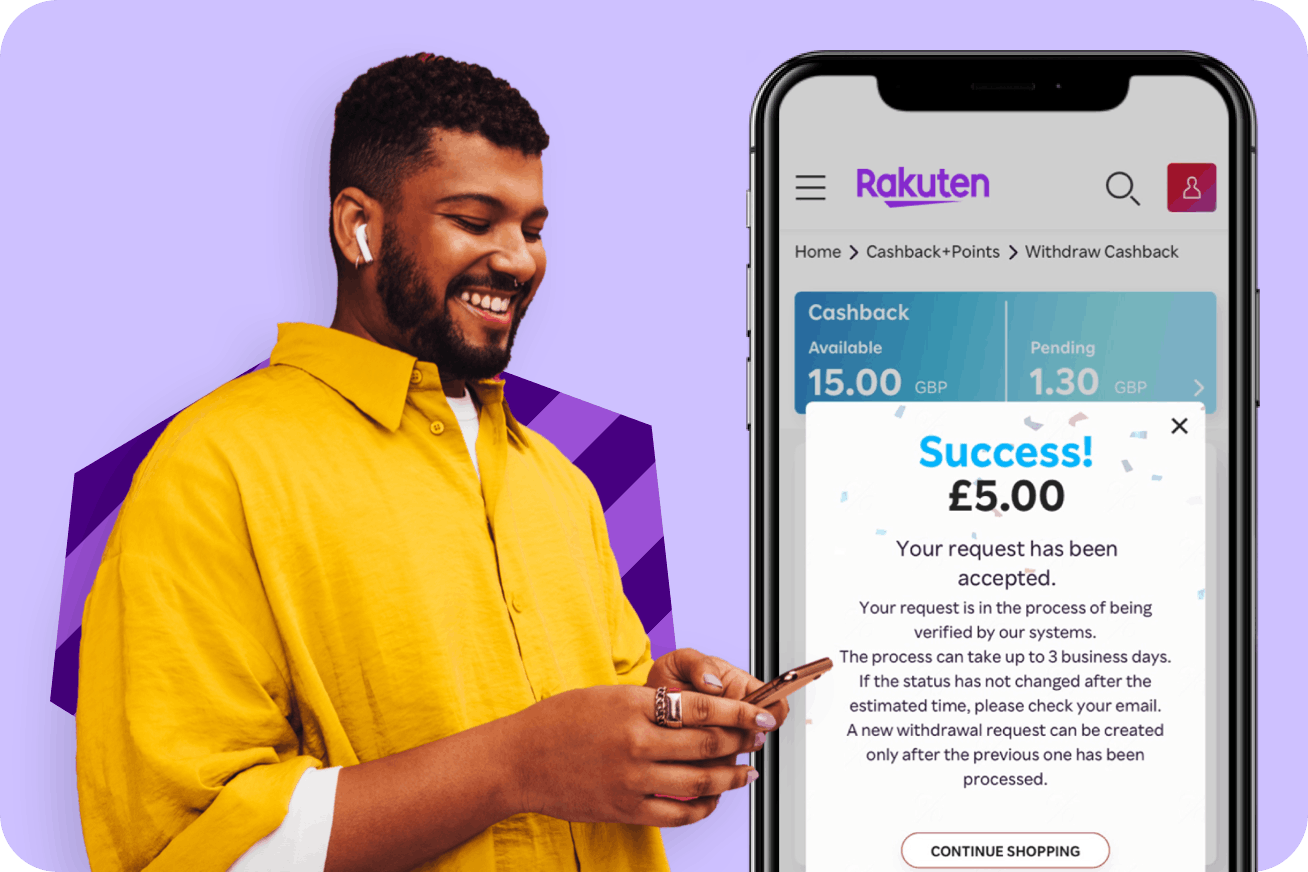 Withdraw
Withdraw the cashback to your account 
Once your transaction is confirmed by the partner shop, you can withdraw cashback as money to your chosen bank account.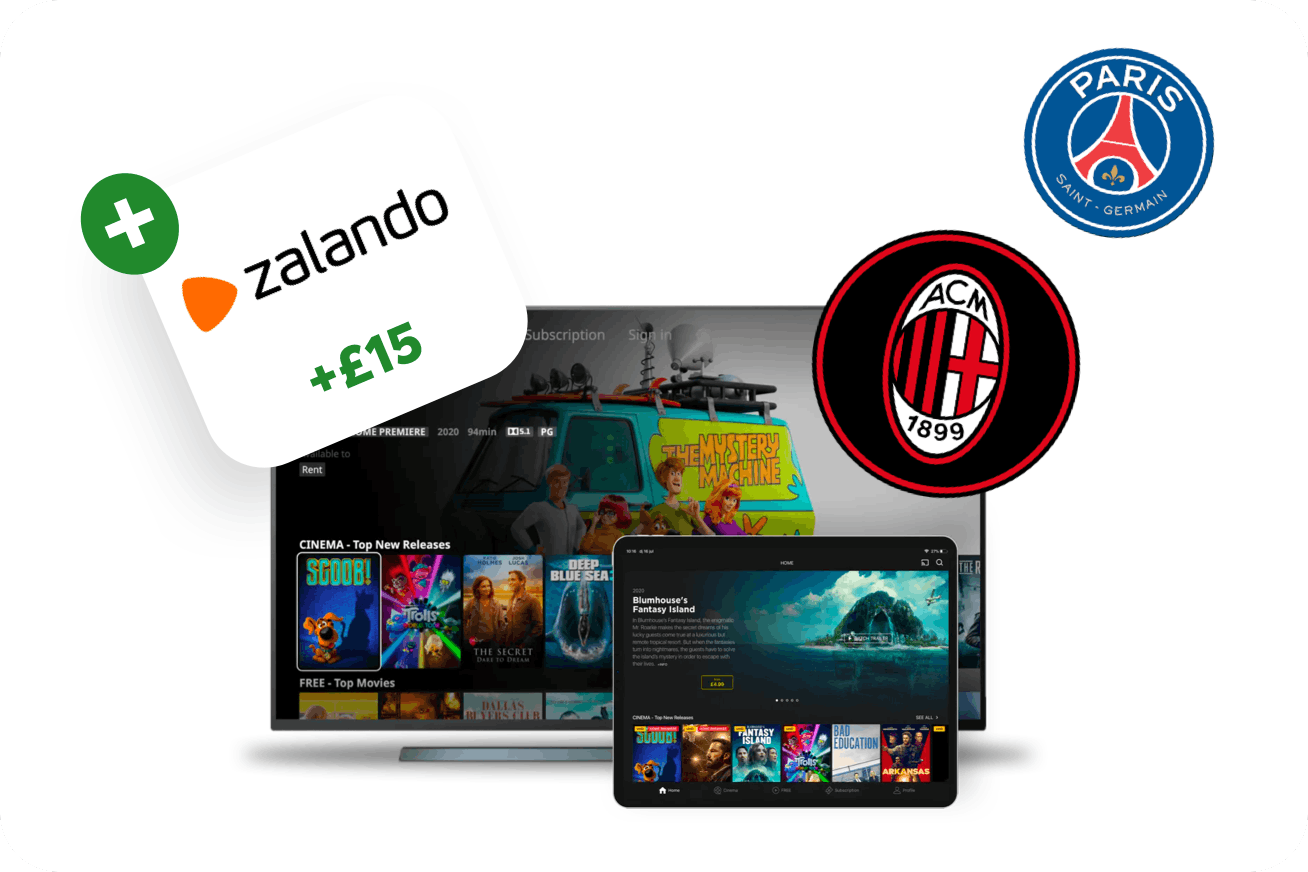 Points
Get an extra 20% by converting cashback to Points 
With Rakuten, you decide how to withdraw what you've earned. You can transfer it into your chosen bank account, or you can convert it into Points at a +20% value: £1 of cashback = £1.20 in Points. Points can be spent on hundreds of rewards: gift vouchers, movies on Rakuten TV, Kobo eBooks and audiobooks, Viber credit and more.
What are the Benefits?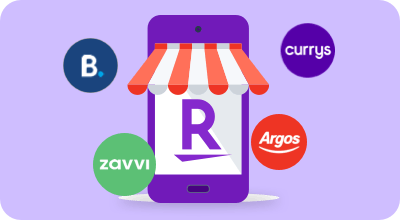 We showcase incredible sales, offers and discount codes from over 400 shops.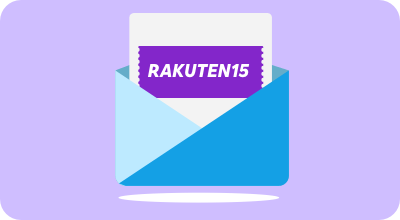 We work with our partner brands to secure exclusive discount codes just for you.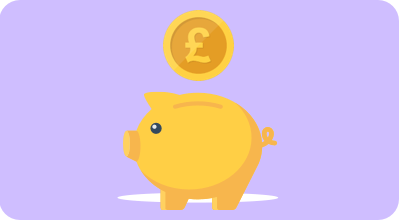 You can shop 'til you drop and earn cashback effortlessly!
FAQs
What is new to you?
Once you have started earning cashback rewards, you will be able to withdraw them directly to your bank account or PayPal account. To withdraw to your bank account, you need to go to the cashback withdrawal page on the Site, add your bank details as requested and your cashback rewards will be credited to your bank account within 3 working days (depending on your bank account provider). To withdraw to your PayPal account, you need to go to our Customer Service helpdesk, tell us the amount you wish to withdraw and the email address linked to your PayPal account and once your request is processed the cashback rewards will be credited within 3 working days.
What will stay the same?
As well as earning cashback rewards, you still have the possibility to convert your cashback rewards into Rakuten Points at an escalated exchange rate through our Points Exchange Page. Exchanging cashback rewards to Rakuten Points may take up to 24 hours and all current redemption options for Rakuten Points will remain the same. 
Also…
Please note that rewards earned from purchases made through the Site before the 22nd of May 2022, will be granted as Rakuten Points which will be visible via the 'My Account' section on the Site. Please also note that, to complete your first withdrawal, you will need to have a cashback reward balance of £15 or more, but after that, you can request withdrawals with cashback reward balances of £5 or more.
How do I earn cashback?
By shopping with over 400 retailers via Rakuten.co.uk or using our browser extension, your purchase will be tracked and we then pay you a percentage as cashback. For every order, you'll receive an email notification from us within 72 hours, which will include the amount of cashback you've earned. Please note: Sometimes certain products from a brand will not qualify for cashback, so make sure you always check the terms & conditions before making a purchase.
How long will it take to get my cashback?
After placing an order, your cashback will first be displayed as "pending". Your "pending" cashback will be converted into "available" cashback, once the partner shop has confirmed your transaction on their side. This will usually take up to 30-100 days after the order date. Once your cashback is "available", you'll be notified by us via e-mail. To see how much "pending" and "available" cashback you currently have, you can always check the cashback balance displayed in your Rakuten account.
What will I be able to do with my "available" cashback?
You can withdraw "available" cashback directly to your bank account or via PayPal. You can also convert it into Rakuten Points at +20% value: (£1 of cashback = £1.20 in Points). Points can be exchanged for a huge range of gift vouchers, for movies and shows on Rakuten TV, audiobooks and eBooks from Rakuten Kobo, Rakuten Viber credit or Socios.com Fan Tokens. 
Is it possible to miss out on cashback when I buy something?
Sometimes your cashback may be missing or cancelled. There are a number of reasons for this, here are some possibilities: Your order has been cancelled/returned; your order did not track correctly, due to an issue with the cookies; your purchase does not meet the individual terms & conditions for the shop e.g. the item was not eligible for cashback, an unapproved discount code was used, or sometimes sometimes only new customers at that store will be eligible for cashback. If you think there's been a mistake or would like further information about why your cashback hasn't been credited, visit our help centre.
How can I make sure I always get cashback on my orders?
When it comes to the tracking of your orders, there are two main things to look out for. Cookies: Make sure to accept all cookies on our partners' websites - this is essential to ensure the tracking of your order! If your order is not assigned to us by the partner shop, we won't be able to award cashback for your transaction. Individual shop T&Cs: To avoid missing cashback, please also make sure to read through the T&Cs displayed for each shop on our website. For some partners, there may be some exceptions where cashback can not be awarded for certain items or when a discount code is used, for example.
What happens if I cancel my order or return something?
If you cancel your order or return an item, the shop will decline the transaction and any pending cashback relating to the purchase will automatically be cancelled.
I already have Rakuten Points in my account. Can I change them into cashback?
You will not be able to convert any Rakuten Points you've already earned from purchases made before 22nd May into cashback. Any qualifying purchases you make after 22nd May will be credited as cashback into your account. If you would still like to use Points in the future, you'll be able to convert any earned cashback into Points.
How will I withdraw cashback?
In order to withdraw your cashback or exchange it for Rakuten Points, simply head to the Redeem page. You will be asked to enter your bank details, or directed to add your PayPal information. You will enter the amount you wish to withdraw and follow the instructions. Please note that the minimum amount for your first withdrawal is £15, and £5 for each following withdrawal.